29Oct2011: Jonathan Burns
Henro Experience
By Jonathan Burns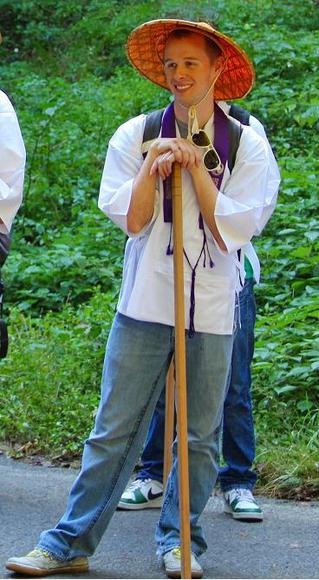 I generally hate mornings and will take any measure that will allow me sleep a little longer (why I take my showers at night and why the lady and the conbini knows my name and what onigiri I like for breakfast). But this past Saturday, I found myself up and awake at 6:30 in the morning, with my lunch and day bag already packed.

This was my third Henro excursion in Kagawa, but my first time to Unpenji temple in Kanonji. After an hour train ride followed by another half hour bus ride, our group of about twenty made it to the starting point of our hike, and you couldn't have asked for better weather. The sun was shining through the forest of pencil-straight pine trees, and the trees held a cool breeze that invited us forward. The hike itself wasn't too bad: a gentle uphill slope through the woods, the majority of which was on a narrow paved road. The hiking is usually my favorite part of the Henro trips. The physical exertion combined with the quiet and solitude of the mountains and forests always has refreshing and invigorating effect. And in between the moments lost in my own thoughts, I find that I always have the most interesting conversations, whether it be with a fellow English teacher and good friend, or with a director at the Kagawa prefectural office, whom I just met that day. The fact that we are sharing this common journey always seems to break down walls and open people up.

Once the uniquely distinct arches of the temples begin to show through the trees, we know we have made it. And though I have been to a number of temples during my stay in Japan, I have never found two that are the same. Each has a history and a unique feel to it that is genuinely its own. I have loved collecting the stories of the temples as I've toured them, from cow demons to lucky eggplants, its all there (and I leave it up to you to find which is which).

Lunch with the backdrop of a temple hidden and shrouded by the woods does not compare to anything I have seen: it stirs something within a person. After making a our prayers and purchasing a few lucky charms, we head off again down the mountain. Though the path became a little more rough, and though the group's energy levels were starting to drop, we all remained in good spirits. We continued down the sloped, rocky path, talking happily with each other and sharing our impressions of the temple (and as an added bonus, we were introduced to "field strawberries", an edible wild berry resembling a miniature raspberry that grew along the path).

By the time we make it back to the bus, everyone is exhausted and a little sore, but extremely satisfied. The ride back home was a little more quiet than the ride there, but the air in the bus had changed. We had all experienced something together and taken something back with us. And though these experiences and souvenirs varied greatly from person to person, we all shared it together. After it was all over, after returning home and reflecting on the days journey, I did what an sensible person would do: I went to the onsen to shower and soak my legs.
-->