29Oct2011: Lindsey Clarke
8th Henro Experience, 29th October 2011
Lindsey Clarke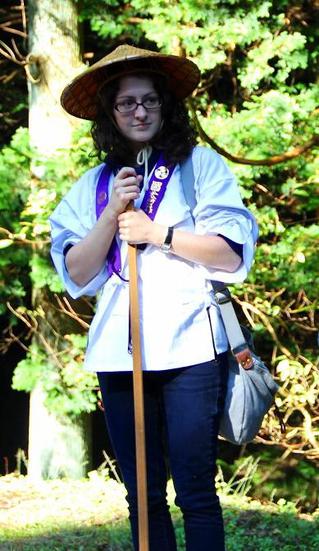 As an uninitiated pilgrim but a committed Kagawa enthusiast, I felt both daunted and excited at the prospect of sampling the Shikoku 88 Temple Trail, also known as the Henro. Although we would only visit one stop on the Henro trail that day, we were venturing up to the highest and most remote temple on the island, Unpenji. Apparently, the monk Kukai was so struck by the beauty of the mountain on which Unpenji stands that he felt compelled to build a temple there as soon as he arrived. I had read a little about the philosophy behind the Henro and hoped to acquire improved stamina, self knowledge, unparalleled tranquillity and Buddhist enlightenment on that day, as many pilgrims had before me. Perhaps my expectations were a little high. Although I didn't quite reach nirvana, I learned some important lessons from the Henro experience.

Firstly, as with so many things in life, the game is worth more than the prize. Although our goal was to reach the temple, scaling the mountain provided the most satisfaction. Picturesque woodland and glimpses of wildlife punctuated our route to Unpenji, distracting us to the point that we no longer noticed the kilometres slipping away.

Secondly, a good travel companion provides more motivation than a good travel destination. Part of the attraction of walking the pilgrimage route is the chance to interact with a variety of people. The traditional garb worn by most pilgrims gives everyone a sense of common purpose, regardless of their background. The pilgrims in our party came from all over the prefecture and from all over the world. Despite our reticence at meeting some of our companions for the first time and our exhaustion during the long hike, the air was full of animated conversation. We shared in the beauty of the scenery and encouraged each other to continue on our arduous journey.

Lastly, life is best experienced at a leisurely pace. I, like most of my fellow travellers, rarely take time to appreciate my surroundings. Spending a day in the countryside allowed us to focus our attention on the sights and sounds of the mountains, leaving behind the stress of the city.

I am extremely grateful to have taken part in the Henro experience. In just one day, I felt that I understood what drives pilgrims to complete the full 88 Temple Trail. I hope to do the same myself one day.
-->