Courtesy visit with the Governor from the Director General of EU-Japan Centre for Industrial Cooperation (October 1st)
The director general of EU-Japan Centre for Industrial Cooperation, who is also the counselor of delegation of the European Commission to Japan, visited Kagawa and had a courtesy visit with the Governor. He gave a lecture at the EU lecture meeting, co-sponsored by the Kagawa EU Association and the Kagawa Association of Corporate Executives.
In the past, Mr. Guerrier was transferred to Japan for a year and, currently, he has lived in Japan for a year and a half since he received his current position. During the visit he talked with the Governor in fluent Japanese and explained that he has visited Yamagata, Akita, Shizuoka and Fukuoka.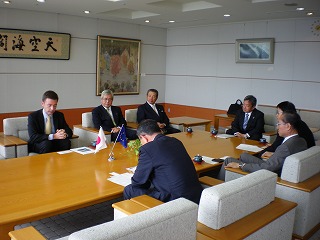 He talked about the current situation of Europe, and that in spite of the world recession, the number of unemployed is smaller than that of the USA, thanks to the Euro. Mr. Guerrier's home country, France, seems to be influenced very little by the poor economy. The Governor explained that the rate of the unemployed in Kagawa is lower than other prefectures because the industrial structure of Kagawa is well- balanced.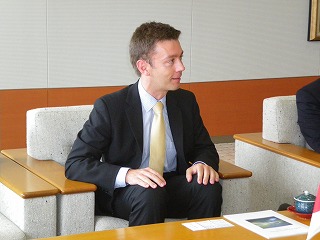 Regarding tourism in Kagawa, the Governor explained that the number of visitors to Ritsurin Garden has increased because the toll of Seto Ohashi Bridge is 1000 yen on weekends and because udon and Naoshima have become popular among tourists.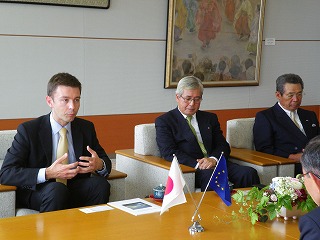 When the Governor said that a young Frenchman became the pupil of a Bonsai Master and that an exhibition from Kotohira-Gu Shrine was held at the Guimet Museum in France, Mr. Guerrier said that there were an increasing number of people who were interested in Japanese culture in France.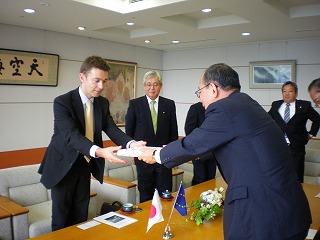 A commemorative photo was taken at the end.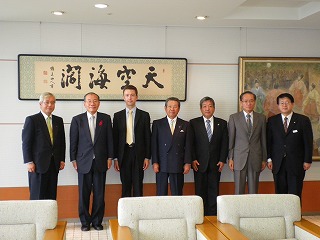 -->