29Oct2011: Hannah Warren
Unpenji in Haiku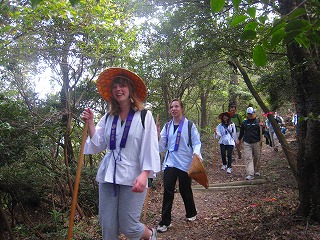 Seven am on
Saturday, I regret my
enthusiasm.

A brief stop to see
a really old dam. Of course,
bad dam puns ensue.

I quite enjoy the
hat. It's oddly comfortable
and rather trendy.

The walk is lovely.
Perfect weather, and I see
a snake eat a frog.

At Unpenji, I
sit on an aubergine, cross
my fingers and wish.

500 Buddhas
pull faces at our visit.
We pull 'em right back.

Downhill is the worst.
I manage not to faceplant
but have some close calls.

What a beautiful
walk! I really enjoy the
nap on the bus back.

-->