KJ200704: The Islands of the Beautiful Seto Inland Sea
The Seto Inland Sea, blessed with a warm climate and nature in abundance, contains many islands. In total, there are 24 inhabited islands and 92 desert islands within Kagawa Prefecture. Why don't you try fishing, camping, swimming in the sea, cycling, sea kayaking or visiting sites of historical interest on these uniquely charming islands?

Shodoshima : The "Olive Island" has many places to see including the village used as a set for filming the adaptation of the famous novel "Twenty-four Eyes" by local author Sakae Tsuboi, a famous autumn leaf viewing spot, the Kankakei Gorge and rural Kabuki stages. There is
also a miniature version of the 88-temple Shikoku Pilgrimage. The "Turtle Marathon" is held here every year in November. If you want to fully explore the island, renting a car at Tonosho-port is recommended. There is also a youth hostel on the island. Ferries and express
boats run to Shodoshima from Takamatsu.
Teshima : While the unlawful dumping of toxic wastes has been a problem, in 2000 a settlement for damages between the Prefecture and citizens of the island was reached. Nowadays, along with Naoshima, where industrial wastes are processed, Teshima has become a place for learning about the environment. The island has always concentrated its efforts on welfare, an example of this is the care home for babies whose parents cannot look after them themselves.The beginning of summer is a good time to visit to see orange trees blooming on the terraced fields. There is a high-speed boat to Tejima from Takamatsu and a ferry from Tonosho Port, Shodoshima.
Naoshima : On Naoshima, you can enjoy modern art at Bennesse House, the House Project(where the interiors of several old wooden houses in Naoshima Town have been made into artwork and opened to the public), and the Chichu Art Gallery. There is also an international camping ground. Ferries to Naoshima run from Takamatsu and Uno Port in Okayama.
Ooshima : The "Ooshima seishouen(Green Pine Garden)"National Leprosy Treatment Centre is located here. Until the repeal of the Precautionary Measures Act in 1996, sufferers of leprosy were forced to live in segregation. Government vessels sail from Takamatsu and Aji port to Ooshima.
Ogijima : The lighthouse on Ogijima was used in a film. Ogijima is aiming to create the number-one daffodil town in Japan. You can reach Ogijima by ferry from Takamatsu via Megijima.
Megijima(Onigashima): Pirates used to use the caves on this island as a base. In spring the island blooms with cherry blossoms, and in summer it is a good place to go for swimming in the sea. You can reach Megijima by ferry from Takamatsu.
Yoshima : Since the opening of the Seto Ohashi Bridge in1998, Yoshima Parking Area has become a popular rest spot halfway across the bridge. Buses depart for Yoshima from Sakaide Station and Kojima Station(Okayama).
Iwakurojima : There are many choice fishing spots on this island. Buses depart for Iwakurojima from Sakaide Station and Kojima Station(Okayama).
Hitsuishijima : Proximate to Okayama, Hitsuishijima has a traditional Shinto archery ritual which is several hundred years old. Buses depart for Hitsuishijima from Sakaide Station and Kojima Station(Okayama).
Honjima : The centre of the Shiwakushoto Islands. Once the stronghold of the Shiwaku Navy(famous for the ship-handling of its exceptionally skilful sailors), it was granted autonomy in the age of the civil war. A treasure trove of historical and cultural assets, the ancient streets of Kasajima-chiku are lined with minshuku(guest houses) made from converted traditional family dwellings. There is a swimming beach selected by the Ministry of the Environment to receive a special award. Hiking and cycling are also popular. Ferries and passenger ships depart Marugame Port for Honjima.
Hiroshima : The largest of the Shiwakushoto Islands, it boasts a palm-lined swimming beach and is a good place to find quality stones. Ferries and passenger ships depart Marugame Port for Hiroshima.
Teshima : With its abundant fishing grounds, it is a popular place among anglers. It can be reached from Marugame Port via Hiroshima and Oteshima.
Sanagijima : Located halfway up a mountain, the Daitengu Shrine contains a stone statue of Daitengu(a long-nosed genie)There is a ferry to Sanagijima from Tadotsu Port.
Takamijima : This island boasts an old village made of stone-walled buildings which has been used many times as a filming location. There is a ferry to Takamijima from Tadotsu Port.
Awashima: Site of Japan's oldest sailing school, Awashima is popular for marine sports to this day. Passenger ships run from Suda Port or Miyanoshita Port in Takuma
Shishijima : With flowers blossoming in the fields from autumn through to winter, you can see some beautiful views. Shishijima has also been used as a filming location. It can be reached by passenger ship from Miyanoshita Port or Suda Port(via Awashima).
Ibukijima : Famous for the production of dried niboshi (sardines), it's a great fishing spot. Passenger ships sail from Kanonji Port.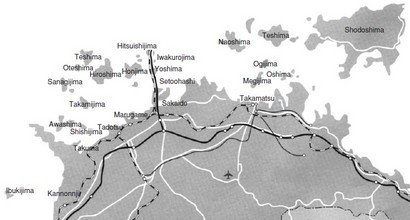 # # # Information # # #
・Shodoshima Tourism Association ― Tel:0879-62-5300(Shodoshima, Teshima)
・Naoshima Tourism Association ― Tel:087-892-2299(Naoshima)
・Takamatsu City Office Tourism Department ― Tel:087-839-2416(Ooshima, Ogijima, Megijima)
・Onigashima Tourism Association ― Tel:087-873-0211(Megijima)
・Sakaide City Tourism Association ― Tel:0877-44-5015(Hitsuishijima, Iwakurojima, Yoshima)
・Marugame City Tourism Association ― Tel:0877-24-8816(Honjima, Hiroshima, Teshima)
・Tadotsu Town Tourism Association ― Tel:0877-33-1113(Sanagijima, Takamijima)
・Mitoyo City Commerce, Industry and Tourism Department ― Tel:0875-62-1129(Awashima, Shishijima)
・Kanonji City Tourism Association ― Tel:0875-23-3933(Ibukijima)

-->