Courtesy Visit from Sausalito City Delegation (April 15th)
Seven people, including Mr. Paul Alblitton, vice-mayor of Sausalito City, paid a courtesy visit on the governor in order to attend the 20th anniversary of Sakaide Sausalito Sister City Treaty.
Sakaide City and Sausalito City contracted a sister-city treaty in 1988, when Seto Ohashi Bridge and Golden Gate Bridge contracted a sisiter-bridge treaty. Since then, exchanges, like Junior and Senior High School exchange students program, reciprocal visits of friendly delegation have been done.
People from Sausalito City Delegation
Mr. Paul Alblitton, vice-mayor of Sausalito City making opening speech on behalf of the delegation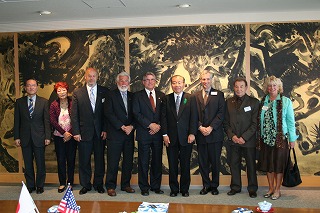 A snapshot with Governor Manabe and Vice-Governor Takagi
-->