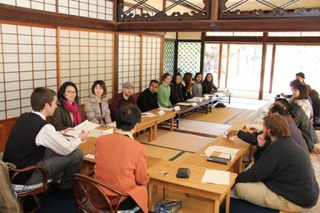 The 4th Kagawa English Haiku Gathering was held at Ritsurin Garden's Kikugetsutei Tea House on Sunday March 27, 2011. Five local Japanese residents and 14 international residents from 9 different countries (including the U.K., Bangladesh, Vietnam, Zimbabwe, etc.) participated.
Under the instruction of Fumiko Hara-sensei, Vice-President of the Kagawa Branch of the Haiku Poet's Association, everyone challenged themselves to write beautiful haiku poems. This was the largest English Haiku Gathering yet to be held in Kagawa, and the atmosphere truly had an international feel to it. Below you can find all of the haiku that was composed in the serene space of the Tea House ? please enjoy!
山笑う
滝は鼓動を
早めたる
The mountain laughing
Echoes of a waterfall's
Quickening heartbeat
-Fumiko Hara-sensei
(Translation: Chris McCabe)
Amazing Scent
Sparrows Twittering
You are fair my love
-Peter Chivero
A silver glass crane
Lost in its changing image
Above and below
- Lorianne Reuser
Is bird on old roof
Want to talk with the far sun?
She's singing, singing
-Jenny Pham
The stillness of sound
Punctuated by coy, as
The blossoms uncurl
-Charli Stockdale
The spring birds singing
Blooming kobushi to bud
My mind to explore
-Minhaz Ahmed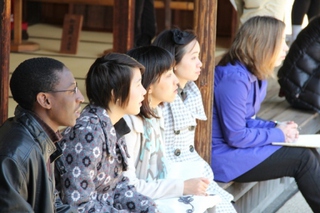 Little birds chirping
Amazing cherry blooming
The spring has come
-Mirza Hasanuzzaman
Flowing full moon
Play on the surface with
Cherry blossom mat
-Yuko Okamoto
In the gentle pond
Reflection of the flowers ?
Twirling, dancing carp
-Tomoko Kawahara
Yuzakura are
Glowing like the moon behind
Seven silver clouds
-Julia Mace
The old tree shadow smell
A clear pond's sparkling surface
The young crane's first cry
-Irina Kaitar
Sun shines on the lake
Bird's love song on the old tree
Girl is missing whom?
-Ho Huynh Tu Mi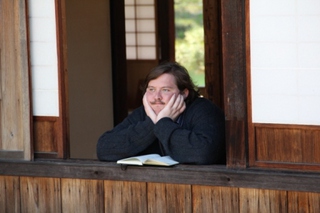 An unbloomed blossom
Hugs itself against the cold
Waiting for warm days
-Nick Josten
Gazing at the tree
The Agricultural Student -
"No symptoms of blossoms"
-Danny Blackwell
Cherry blossoms over bridge
Gentle breeze from pond makes
Mind crazy dancing with joy
-Mohammad Mostafa
Smiling little girl
Cheeks shine pink, breath rising white
In the falling snow
-Narae
Plum blossoms open
Mejiro flaps his wings and
Alights here to play
-Kaori Fujimoto
When the sun rises up
Cherry buds turn to the shine
Life is so happy
-Ben Thapanee
花笑う
いのち輝く 
人笑う
Laughing flower
Glittering shining life and
Laughing family
-Kaori Fujimoto
穏やかな
さざ波映す
春の風
Gently flowing
Ripples on the pond
Spring wind
-Tadasuke Yoshioka
Posted by K-FUN at 10:28 PM