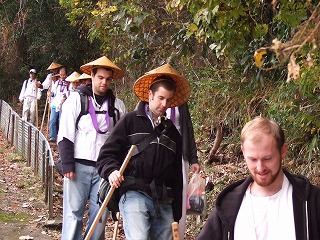 The Henro Trail leading from Yashimaji Temple to Yakuriji Temple was extremely steep, but everyone made it to the base of the mountain without injury.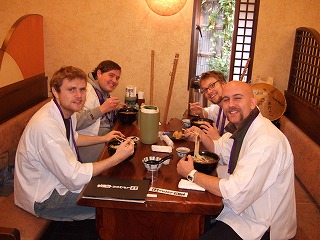 Lunch was held at an udon restaurant along the Henro Trail on the way to Yakuriji Temple.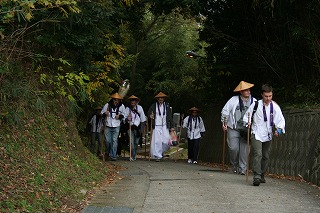 Though the path leading up to Yakuriji Temple was also extremely steep, the participants all climbed it with lots of energy.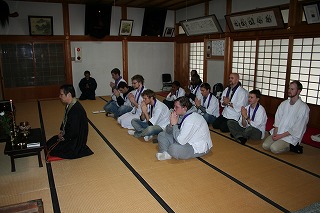 We were allowed to enter into one of the rooms at Yakuriji Temple, where we were met by the Assistant Head Priest, who read a Buddhist sutra for us. We all then folded our hands in prayer.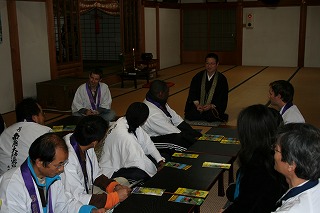 After the sutra, we heard a lecture about general points concerning the Henro Pilgrimage, the origins of the names "Yakuri" and "Gokenzan" (the name of the mountain on which the temple is located), and an explanation of the deities enshrined at the temple, Shōden and Chūshōbō.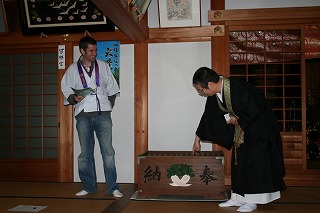 The Assistant Head Priest explained one of the symbols for Shōden is daikon, and that if you pray to this god, you will become healthy and wealthy.
The participants all received o-settai (hospitality for Pilgrims) and were given amazake (a sweet, lightly fermented drink made of rice). It was quite tasty!
We were blessed again with good weather on this Henro Experience, and we had a successful day without any mishaps. We hope that all of the participants will come away with good memories of the hike. We would like to thank everyone at Yakuriji Temple for their hospitality. You can see essays, poems, and written impressions from the participants, right here on the ipalog!